NFT

---
London's House of Fine Art (HOFA) gallery is one of the pioneers of the crypto art scene, being one of the first venues to showcase NFT artworks in a physical space back in 2021.
Back then, it took a somewhat conservative approach, focusing on prints of CryptoPunks alongside physical sculptures and NFT-adjacent work.
This time around, its "Beyond the Screen" exhibition is dialing up the digital element, with vibrant screens displaying eye-popping animated work by the likes of XCOPY, OSF and DeeKay. But the word "NFT" is nowhere to be seen.
NFTs are "just a medium," said NFT artist and collector Ovie Faruq, aka OSF, who showed Decrypt around the space. "It's just like, do I have my painting on an oil canvas, or do I have a photograph? Or do I have a screen displaying some digital art? It's just a canvas; it's just a mechanism to transact," he added.
Ultimately, he argued, "people will start buying NFTs without knowing they're NFTs. And that's the sort of thing that will get us over this, like, stigma that's attached to it."
1. Officially announcing my next 1/1, "superfan".

How many $PEPE frogs can you count? 🐸

Link + info below 👇 pic.twitter.com/TTXDaYGSs8

— OSF (@osf_rekt) May 5, 2023
"We haven't used the word NFT at all for this event," OSF added. "The focus is meant to be, this is digital art; we want to display it in a way where people can resonate with it." That means shifting the focus away from prices and speculation and onto "championing artists," he added.
It's somewhat ironic, then, that OSF's own contribution to the exhibition, "Super Fan," inadvertently predicted the current PEPE-led memecoin market frenzy. The digital artwork, which OSF drew "two or three months ago," features a "kind of loner character" who's obsessed with Pepe the Frog, and surrounded by market charts showing green and red candles.
"It probably resembles a lot of people within crypto culture," OSF said. "Maybe, like, the COVID era as well. It's meant to be a little bit satirical."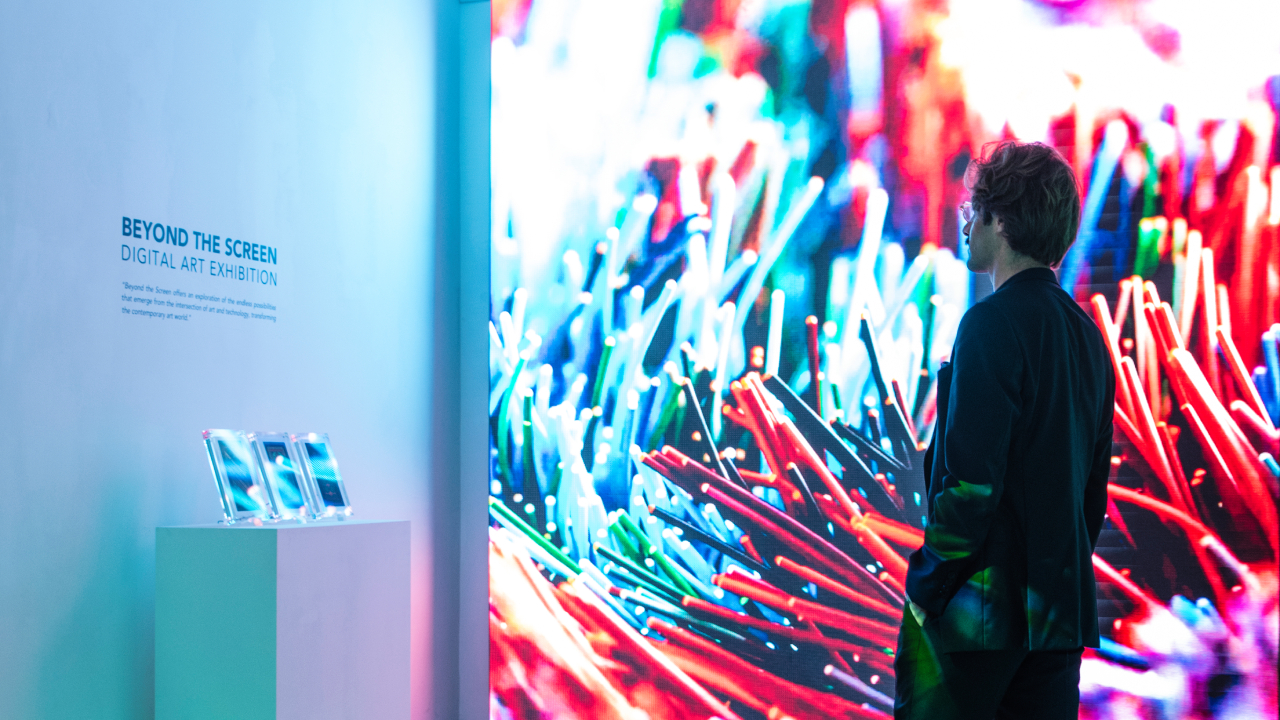 "Beyond the Screen" at HOFA. Image: HOFA
Also featured in the exhibition is XCOPY's "MESCO TETRO"—"which none of the Americans got the reference of but obviously all of us do," said OSF, while conceding that, "I still don't really know if it's maybe based on Tesco plastic bags." The work was one of the last XCOPY minted on the SuperRare shared contract, he added. "In the old days they had one shared contract, so all the artists would mint on this contract. After SuperRare allowed artists to mint on their own sovereign contracts, XCOPY announced that he'd mint four final pieces on the SuperRare shared contract. "He sold one of them, he gave one of them away—so someone made like £300,000 on the giveaway—and this is one of the ones that was unsold," said OSF.
Other artists whose works appear in the exhibition include animator DeeKay and photographer Cath Simard. "She does these crazy expeditions and hikes, super dangerous stuff, and she captures his moments and uses composites to create a final image," said OSF.
What the exhibition is aiming to showcase, said OSF, is that within the NFT art space, "there are people with genuine intentions trying to achieve noble things. It gets dragged down by this association with crypto bro culture; that's not what any of these artists here are about."
"Beyond the Screen" runs at House of Fine Art until May 26.
---