NFT

---
In New York last week, the trial began of a former OpenSea employee who was indicted for wire fraud and money laundering in what is being seen as the first case of insider trading related to NFTs. He has been convicted of wire fraud and money laundering, both of which carry a maximum sentence of twenty years in prison. His sentencing is pending for 22 August.
To sum up what happened, OpenSea is the leading NFT marketplace (and completely dominated the sector at the time of the alleged crimes, June to September 2021), and often featured NFT collections of its choosing on its front page, which led to prices on those collections going up.
Nathaniel Chastain knew in advance which collections would be featured, and is accused of buying items from those collections in advance and selling them at a profit when being featured as their prices rose.
He did this using multiple anonymous wallets, and in contradiction of his contract, which prohibited such behavior.
📢Announcements➡️@generaitiv Announces Innovations in Decentralized AI and Web3 Integration➡️@Ledger PRO TEAM Season 2➡️Metaverse Event with @CCELYSEES & @RLTY_Live➡️Trial Date Set for @opensea's Nathaniel Chastain on Money Laundering Charges#NFTspic.twitter.com/y8821O6Kta

— NFTevening (@NFTevening) April 20, 2023
Chastain's lawyers have argued that the term 'insider trading' should not be applied, since the defendant was not trading securities, and the term may confuse a jury. As such, the case raises the question of whether insider trading can refer to the trade of, essentially, anything, but it also has implications for NFTs, and how they are classified.
What Kind of Assets Are NFTs?
The prosecutors, in this case, charged Chastain, now a convict, with wire fraud and money laundering, meaning there is no requirement for them to identify NFTs as securities, but could NFTs, in fact, be classified as such?
This issue ties into wider debates around crypto and its regulation in the US, and globally, and there are mixed messages. The CFTC in the US oversees commodities, and has, in its case against Binance, stated that Bitcoin, Ethereum and Litecoin are commodities. Meanwhile, as an example of regulatory contradiction, the SEC, which deals with securities, charged crypto platform Bittrex for "operating an unregistered national securities exchange, broker, and clearing agency."
Today we charged crypto asset trading platform Bittrex Inc. and its co-founder and former CEO William Shihara for operating an unregistered national securities exchange, broker, and clearing agency.https://t.co/kBsIFMp7ZA

— U.S. Securities and Exchange Commission (@SECGov) April 17, 2023
Sounds confusing? That's the general consensus. And, when it comes to NFTs, it gets more difficult to make a clean call, since NFTs really just refer to a kind of technology, a token that is non-fungible, that can be used for all manner of applications.
If an artist sells a unique composition as an NFT, it's difficult to see how that's substantially different to selling a painting (and so, not a security). But, what if a web3 start-up offers 10,000 NFTs, perhaps featuring pixel art, or cartoon apes, or perhaps just identical ticket-like designs, offering membership of their community? What exactly would traders be buying into here? Are they in it for the artistic token design, or is that incidental? Is this an investment opportunity, what happens to the funds raised, and are the tokens bought in anticipation of price increases as the project grows?
#Slippage#Crypto#CryptoNews#Cryptocurrency#Cryptocurrencies#Bitcoin#ETH#BNB#TeamFollowBack#FollowBack#DEFI#NFTsSEC's 'brute force' crypto regulation attempt is 'bad policy' — Paradigmhttps://t.co/ipypSJlk5kpic.twitter.com/cQyt22bvl0

— Adept Asia Consulting (@AsiaAdept) April 21, 2023
Keep in mind, that there are NFTs offering metaverse avatars, gaming items, membership of Discord communities, PFPs, access to art launches, access to media organizations, and there are some that act simply as small-supply, meme-driven speculative tokens (and there are other uses beyond all these, too).
All of this indicates that NFTs, when taken as a whole, may simply defy classification, while individual projects and collections can each be assessed on their own merits.
Wider Regulatory Implications
It has appeared recently that US authorities are on the offensive against crypto, but the Chastain trial suggests that there is still a lack of clarity around which authorities should be focused on NFTs.
In the EU, there is a more progressive attitude towards crypto, and recently passed MiCA legislation looks to have set the region on a path towards integrating the crypto industry and reducing risks. However, it's notable that MiCA does not, in its current format, cover NFTs, and again, the classification may be difficult when it comes time for the EU to deal with this corner of the crypto world.
On top of that, this brings into focus another issue that won't go away: the fact that existing regulatory frameworks in the US simply may not adequately cover crypto, while in Europe, MiCA is providing a new model that specifically deals with crypto. This difference in approach could potentially create an unsustainable situation for the US, which risks falling behind in getting to grips with the crypto industry and how it integrates with traditional finance.
NFTs Remain an Outsider Interest
Returning to NFTs, they have, throughout their short timeline, mainly existed as an eccentric fringe in a crypto world that is itself unorthodox. Even long-standing crypto enthusiasts are divided on NFTs, some will collect and trade, some reject them completely, and NFTs have moved in attention cycles that don't always match up with the broader crypto market cycle.
Recently, NFT trading has declined in volume and active wallets, and collection prices are down, at exactly the moment that memecoin trading (or, arguably, gambling) has taken off, suggesting that those in search of quick NFT-trading profits are, temporarily at least, putting their money to work elsewhere.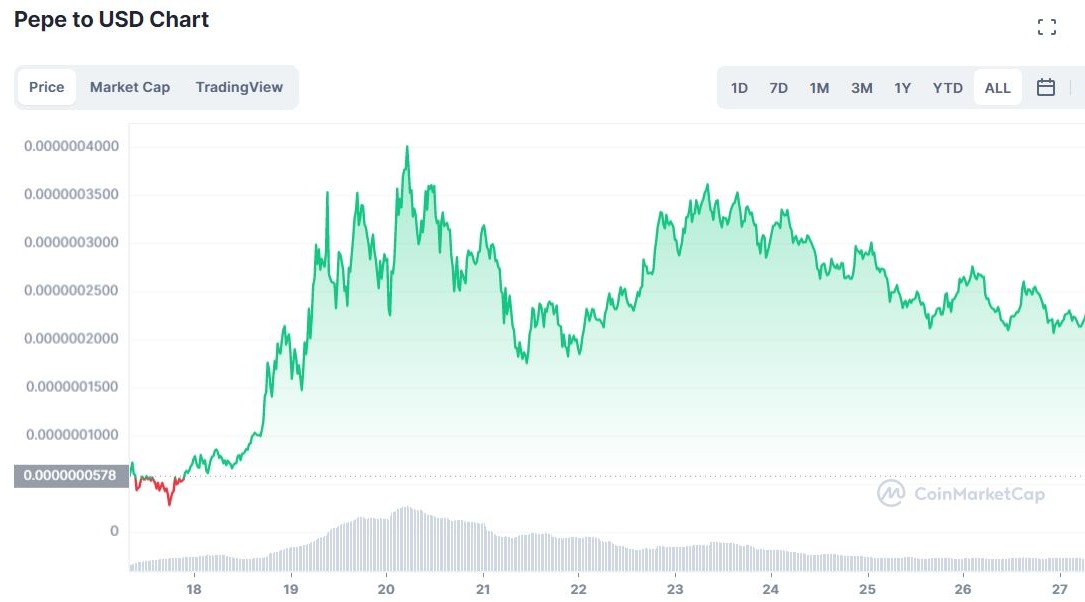 PEPE has led the memecoin charge. Chart from CoinMarketCap
However, this scenario, of attention ebbing and flowing, is nothing new for NFTs, which often seem to revel in their outsider status. And, with NFTs crossing over into a wide array of sectors, including the world of experimental art, it's possible that even though they're currently out in the cold amid stories of insider misconduct, they'll experience new surges of interest in future. After all, traditional art markets are themselves no strangers to fraudulent activity, and so perhaps the digital art realm is, in some respects, treading a familiar path.
---