Blockchain

---
The Binance BNB Chain has the highest number of active crypto addresses by more than double the next closest blockchain, according to recent research.
According to the on-chain analytics platform Nansen, BNB Chain had the most active addresses in April, with 10.9 million.
Furthermore, the Binance blockchain had more than double the activity of its closes two rivals, Solana and Ethereum. However, the active address count for BNB Chain was down 11% from the previous month.
Nansen reported that Solana was second with 5.1 million active addresses but a 12% decline in March. Ethereum came a close third with 4.9 million active addresses and a 7.9% fall on the previous month.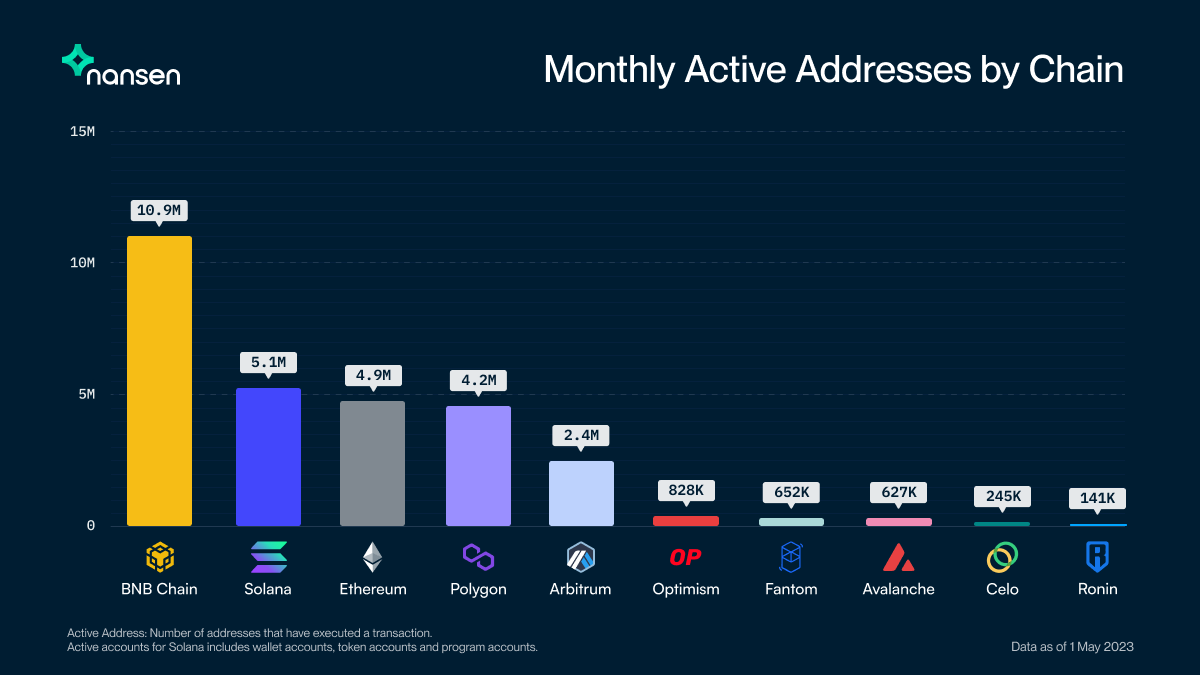 Monthly active addresses by chain – Nansen
BNB Chain Boosted by PolyHedra
Nansen added that the top entities in terms of BNB Chain active address growth were Polyhedra Network, Layer Zero, and Stargate Finance.
According to the Nansen dashboard, Polyhedra had a 4 million percent increase in active addresses in April. Polyhedra is a zk-proof infrastructure network for scalable Web3 interoperability. It launched zkBridge to mainnet on BNB Chain, Ethereum, and Arbitrum in early April.
The Layer Zero protocol and Stargate DeFi platform had gains of 471% and 375% respectively on BNB Chain.
It said that the Mad Lads NFT project was driving active address growth on Solana. However, the Nansen dashboard showed most of the activity and entities on Solana as "unknown," and activity has slumped since the FTX collapse.
The PEPE memecoin was responsible for Ethereum's active address increase with a 213,071% change, according to Nansen.
Polygon, which was fourth with 4.2 million active addresses in April, was dominated by stablecoin activity.
In terms of active address gains, Avalanche topped the list with an 87% increase. However, its monthly active addresses were way below BNB Chain and Ethereum at 634,880.

Multichain activity – Nansen
It should be noted that it is possible that bot activity makes up a large portion of this active address metric.
Activity Increasing
According to the BNB Chain scanner, the total number of active BEP-20 addresses was 1.67 million on May 2. Bscscan also reported that this metric has increased by 64% since the beginning of the year.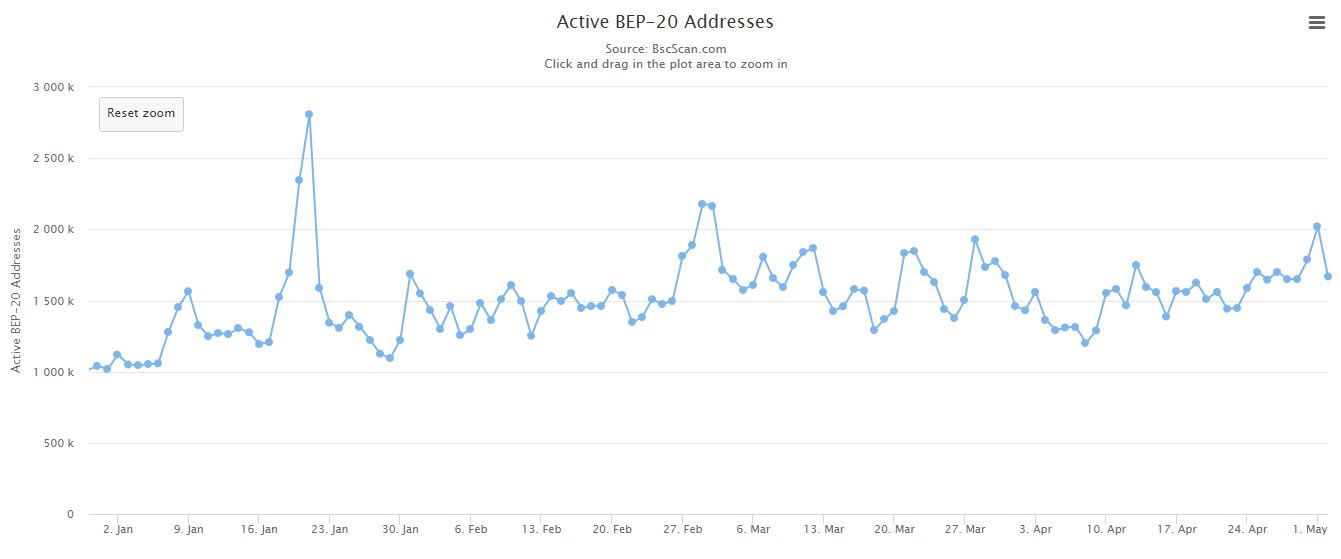 Active BEP-20 addresses – Bscscan
The tracker also reports that there are currently 4 million daily smart contract transactions on BNB Chain. This is up 80% since the beginning of the year but down 75% from its peak.
The daily Binance BEP-20 token transfer figure spiked to 7.2 million on May 2. Active smart contract addresses are currently 1.3 million, according to Bscscan.
Additionally, BNB prices are flat on the day at $323, according to BeInCrypto data.
---