NFT

---
The number of NFT traders active on a weekly basis has sunk to its lowest level since August 2021, according to The Block Research.

Liquidity farming driven by marketplace Blur's ambitious incentive program aimed at wooing traders away from OpenSea, the long-time leading platform in NFT trading, has spurred an erosion in pricing. The lower pricing coupled with general market volatility has then had the knock-on effect of reducing the number of traders, said The Block Research Analyst Brad Kay.

"This erosion of the floor price, paired with heightened market volatility, has dampened the usual urgency to buy, the 'fear of missing out,' among regular traders," he said. "This volatility, in turn, has had a discouraging effect on regular traders, leading to a decrease in overall trading activity."

Last week, the number of active traders buying and selling Ethereum NFTs slid to about 49,000, according to data from Dune analytics. The total number of traders has not been that low since August 2021, the data shows.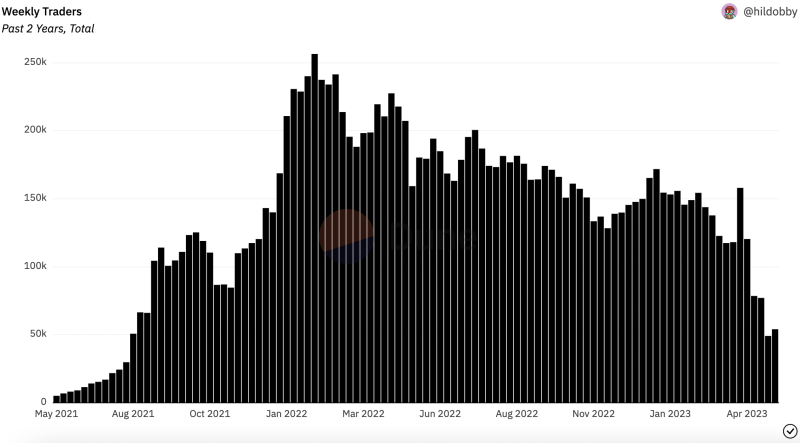 Weekly number of active NFT traders: Dune

NFTs are sometimes traded on Solana and Bitcoin blockchains, but the volume is negligible when compared to Ethereum, the chain used by top-tier collections like CryptoPunks, Bored Ape Yacht Club and Azuki.
The impact of Blur's strategy of offering lucrative incentives to traders in order to overtake OpenSea as the top marketplace by trading volume has been unprecedented, said Kay.



"Driven by Blur Marketplace's aggressive airdrop and bidding incentives, liquidity farming has surged," he said. "While this has stimulated short-term liquidity, it's also instigated a downward pressure on the market floor. Farmers, pursuing Blur's rewards, accept short-term trading losses, consequently pushing prices lower."

"Liquidity farmers" are essentially traders aiming to take advantage of Blur's incentives by "artificially inflating the price or volume of an NFT before rapidly selling it off," said Kay, adding that this discourages "genuine" trading while simultaneously threatening liquidity.




---