Since at least the back half of the Stone Age, people have been getting tattoos. Designs have shifted over the millennia, from geometric patterns and body-spanning portraits all the way to beating red hearts dedicated to the mothers of the world.
But despite changing tastes, much about the medium has not changed over the last twelve thousand years: tattoos have always been just as much about the tattooist as the design, susceptible to any tattoo artist's minute movements, mess-ups, abilities and sensibilities. No two tattoos, even by the same administrator, have ever really been exactly the same.
It appears that's all about to change. On Thursday, the company Blackdot, a high-tech tattoo startup, simultaneously launched an automated tattooing platform, a flagship tattoo studio in Austin, Texas (the first of several planned to open across the United States), and a suite of partnerships with prominent artists from numerous disciplines. Collectively, they aim to redefine what it means to get a tattoo, to give a tattoo, and to design one.
Tattoos created with the Blackdot device. Image: Blackdot
The company's patented tattooing device, perfected over the last five years by a team of PhD engineers, reads a subject's skin to assess the perfect amount of ink to apply, and at what depth, in individual dotted increments roughly 250 microns in diameter—about twice the width of a human hair.
With automated precision, and while delivering substantially less pain (the company claims) than a typical tattoo gun, the Blackdot device can ink any pre-programmed design—a pattern, a painting, even an image—on any manner of skin type or body area.
A hyper-detailed Blackdot tattoo inspired by the Mona Lisa. Image: Blackdot
"When you see it in person, you just about shit in your pants," Steve Godoy, a 37-year veteran of the Los Angeles tattoo scene, told Decrypt's SCENE of a Blackdot-crafted Mona Lisa tattoo he saw in person. "The technical nature of this thing… it's about three-eighths of an inch tall by maybe an inch wide. It's a category all its own. It's its own specific art form."
Godoy is a tattooist and former professional skateboarder who, among other things, worked with his twin brother Art to perform all tattoos on Julia Gnuse, the once-Guinness World Record holder for most-tattooed woman in the world. He currently serves as an advisor to Blackdot—a sort of ambassador to the company from the traditional tattoo world.
He came up in the biker-dominated, punk-heavy tattoo scene of the early 1980s, when artists and tattoo parlors were incredibly secretive, interconnected, and fiercely protective of craft. While the artist feels that spirit has since been "diluted" in the intervening years, he believes that Blackdot's standardization of quality and prioritization of artistry has the potential to reverse that trend.
"That's what the tattoo industry used to be, and should have been, if it hadn't been saturated and exploited," Godoy said. "This goes right back to its roots."
Thanks to Blackdot's unique technical process, all sorts of designs are now able to be applied as standardized tattoos anywhere a Blackdot studio location stands, with surgical precision, by any trained staff member.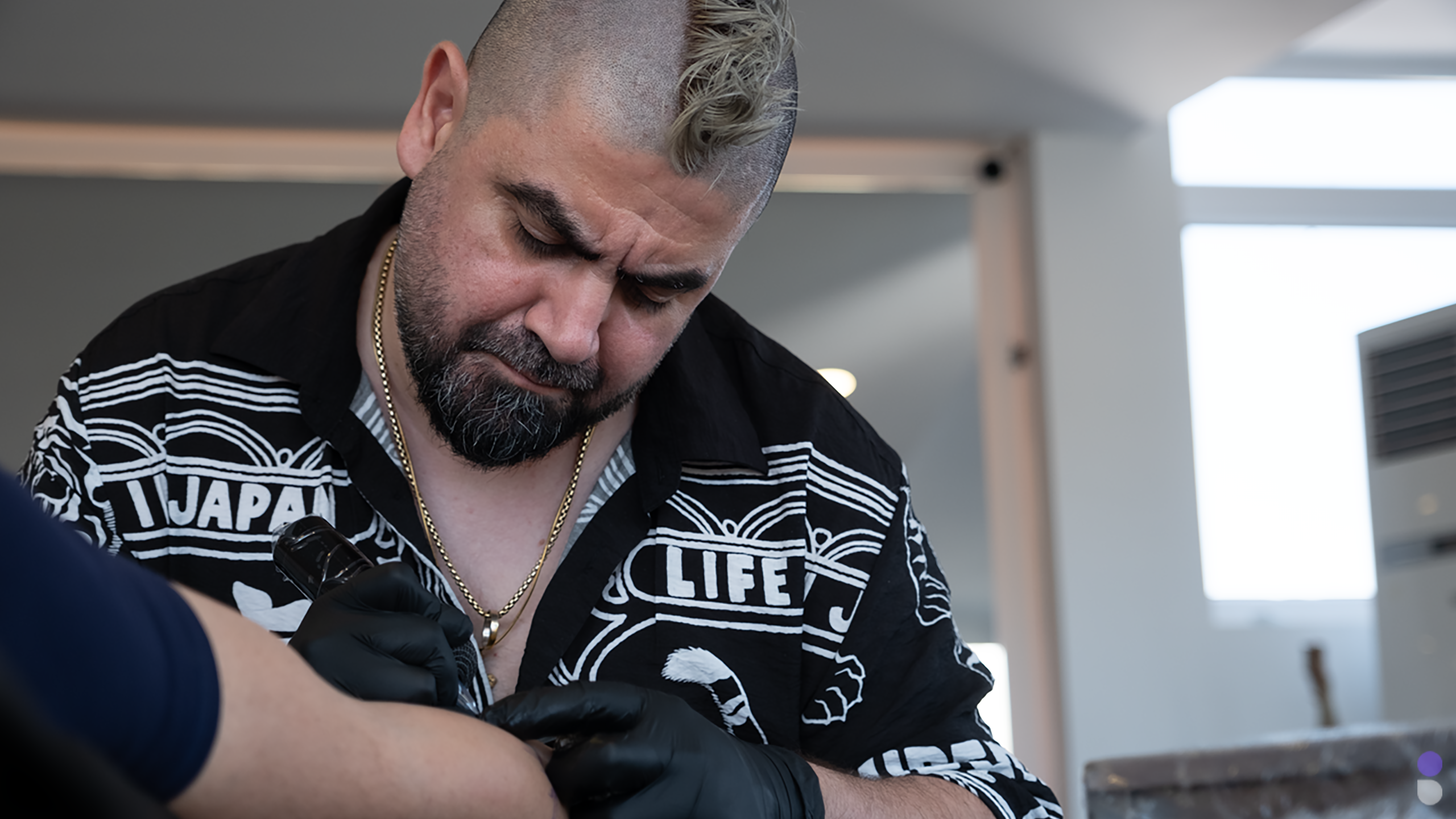 Turkish tattoo artist Omer Tunca works at a hand-crafted tattoo. His designs are now available to be made into tattoos worldwide via the Blackdot platform. Image: Blackdot
The development has already broken down barriers of geography and medium. Acclaimed Turkish tattoo artist Omer Tunca today released a tattoo collection on Blackdot that any customer can now have inked on their body exactly as the artist envisioned, without needing to travel to Istanbul. Digital artist Tyler Hobbs ("Fidenza," "QQL") released a collection today, as well, taking his highly in-demand code-generated designs to the medium of the human body for the first time.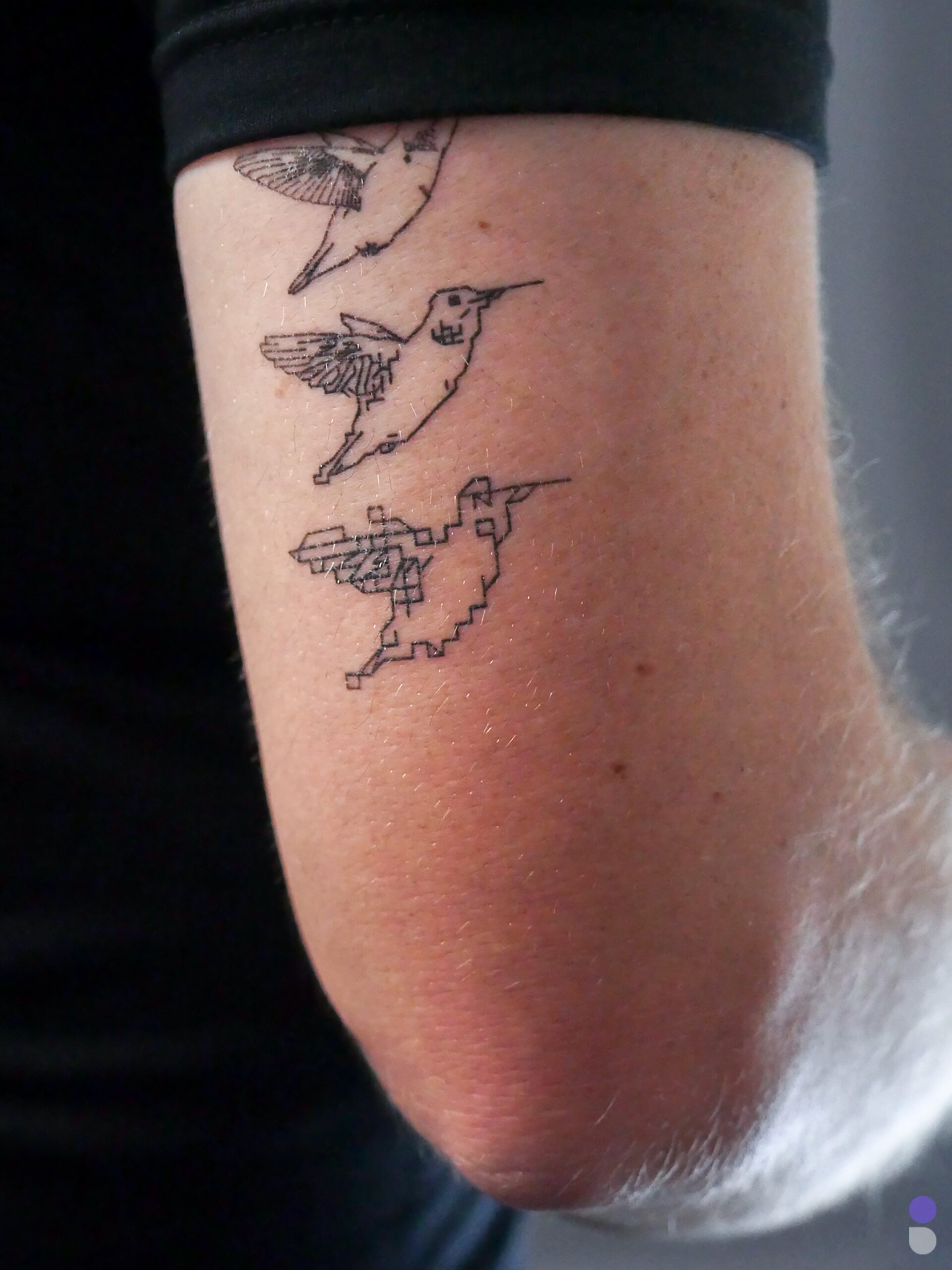 Generative one-of-one tattoos designed by generative artist Tyler Hobbs, for Blackdot. Image: Blackdot
John Craig, who designed the iconic album art for the 1995 Smashing Pumpkins album "Mellon Collie and the Infinite Sadness," has also contributed artwork from that project to create a collection of Blackdot tattoos.
Design fees for these initial tattoos range in price from $400 to $8,000, with execution fees set between $600 and $1,850. Available designs will soon expand through the Blackdot Certified Artist (BCA) program, which will onboard artists onto the platform and allow them to both upload their own tattoo designs, and accept custom commissions. Key to the company's business model is a royalties system which will ensure that artists will be paid a creator fee every time their designs are used at a Blackdot studio.
Blackdot plans to use NFTs both to undergird that royalties system, and to keep track of the scarcity and status of certain limited-edition collections (only 50 tattoos will be created from each of Omer Tunca's designs, for example). While those functions have not yet been rolled out, Blackdot also plans to eventually roll out a Tradeable Tattoo program that will allow users to sell designs for potential tattoos on secondary markets as NFTs, and to keep digital mementos of purchased compositions. The company also hopes to soon roll out a stablecoin payment option.
Artist Tyler Hobbs collaborating with Blackdot on tattoo designs. Image: Blackdot
Blackdot's founder, Joel Pennington, had zero tattoos when he first came up with the idea for the company. He was a serial entrepreneur who, at the time, was working in the coffee industry. Proximity to so many inked baristas began to turn the wheels in his brain, and after some research, he felt he had discovered a huge flaw in the extant tattoo business.
"What people really wanted were smaller pieces that were really, really detailed, like the size of a credit card or less," Pennington told SCENE. "But you'd have to fly to New York or LA, and you'd have to get on some type of year-long waitlist, or maybe the artists won't even work with you because you're not a public figure or celebrity."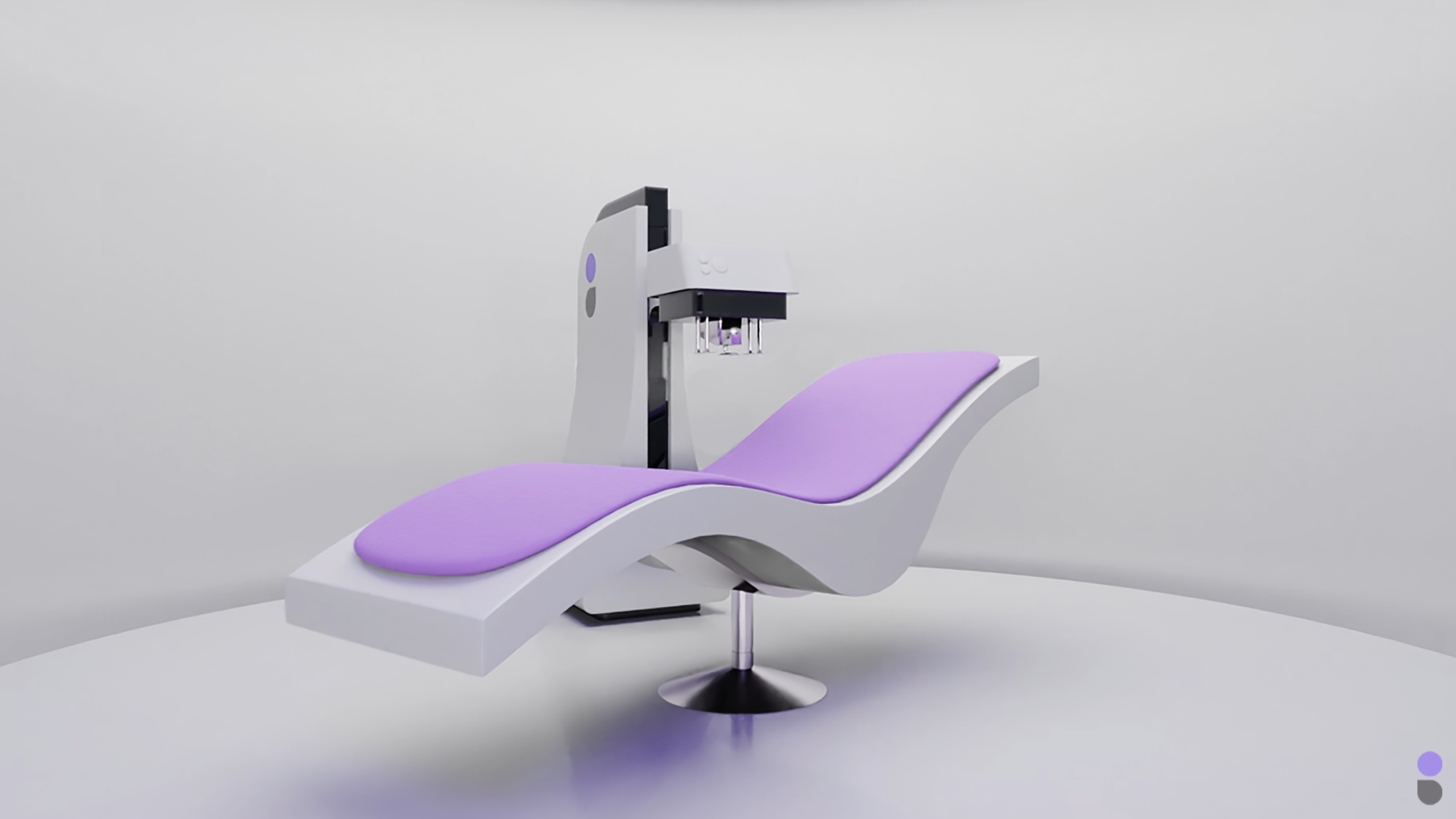 A mock-up of a tattoo chair at Blackdot's flagship studio in Austin. Image: Blackdot
After five years of research, development, testing, and fine-tuning—which included Pennington finally receiving tattoos himself, one of which was partially applied with a Blackdot machine by his two young daughters—he thinks he's discovered the perfect formula to upend the tattoo industry.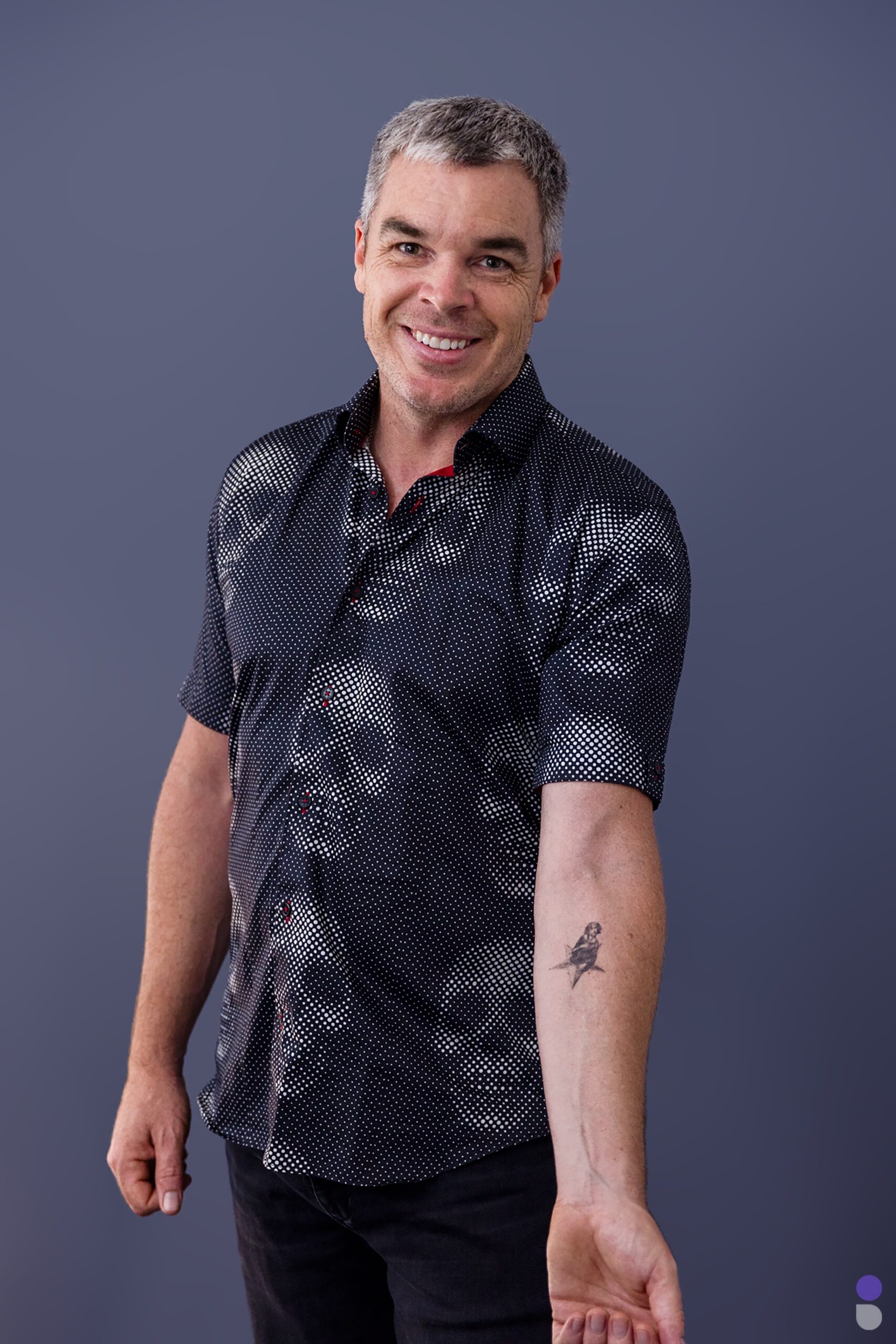 Blackdot founder Joel Pennington. Image: Blackdot
But the entrepreneur is also careful to emphasize that Blackdot's raison d'être is not to become the Uber of tattoo parlors, or to run local shops out of business. To him, a Blackdot tattoo represents a new genre of body art, one that may create an entirely new ecosystem of artists and customers.
"What we're doing is not for everybody, it's for a slice of the market," Pennington said. "This is really just technology that allows tattoo artists to be able to scale, and for other artists to be able to participate in a market that's been off-limits in the past."