NFT

---
The Los Angeles County Museum of Art (LACMA) took a big step into the NFT world in February when it announced the acquisition of a valuable collection of tokenized artwork. But the famed art museum isn't just collecting—it's also working with noted Web3 creators to pay homage to classic art in new and experimental ways.
LACMA's "Remembrance of Things Future" initiative continues this week with the launch of a pair of interactive NFT collections from noted pseudonymous artist Deafbeef, who uses a C code compiler to create distinctive work. His "Noumenon + Chronophotograph" Ethereum NFT project draws inspiration from the formative work of English photographer Eadweard Muybridge.
The 19th-century photographer's motion studies through chronological photo sequences—most famously "The Horse in Motion," of a galloping horse—helped inform future film and animation, as well as other art styles. The sequences were famously referenced in Jordan Peele's 2022 film, "Nope."
✨📸Today📸✨@LACMA + @CactoidLabs is pleased to announce Vol.3 of the Remembrance of Things Future initiative: 0xDEAFBEEF: Noumenon + Chronophotograph@_deafbeef's Chronophotographs release 2pm PDT

Use only official links in Cactoid Labs Discord pic.twitter.com/jhFwqznsBq

— Cactoid Labs (@CactoidLabs) May 4, 2023
"Remembrance of Things Future" is a collaboration between LACMA and blockchain consultancy Cactoid Labs. Like other participating artists, Deafbeef was given free rein to choose works from LACMA's permanent collection and find something that resonated with him—and that he could respond to, artistically.
"All of the images really had an enigmatic quality to them that was familiar, but mysterious. They're part of our consciousness, because those images are really well known," Deafbeef told Decrypt of Muybridge's work. "I just found a wealth of interesting things and connections to really dive into."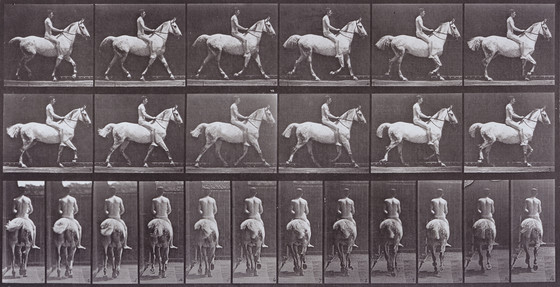 Eadweard Muybridge's "Animal Locomotion" (1886). Image: LACMA
The project centers on 16 "Noumenon" Ethereum NFTs, each a unique, minute-long animation derived from compiled C code. Deafbeef described each monochromatic audiovisual work as "representing unknowable reality beyond our immediate senses."
"The qualities of it visually and sonically are meant to suggest that there are lilting rhythms and time distortion. It's amorphous and fading, and there's different shapes," he continued. "It's meant to be sort of beyond your grasp."
The eventual owner of each Noumenon can then take—or delegate another wallet to take—a chronophotograph still image sequence that's turned into a separate NFT, thanks to the associated smart contract. A smart contract holds the code that powers NFT projects, and this one contains a unique "releaseShutter" function that can be called to generate the still snapshot.
A potentially endless number of chronophotographs can be taken from each Noumenon NFT, providing a stream of unique editions that could be kept or traded. But there's a catch: a time lock that exponentially expands, doubling after each snapshot. Interestingly, every subsequent chronophotograph is also a larger, clearer, and higher-resolution still sequence.
Photography as Performance Art: Jeremy Cowart Creates a Totally New Kind of 10K NFT Collection
For Deafbeef, the project provided not only the opportunity to learn more about Muybridge's work and discover the connections between them, but also to ruminate on concepts like "contrasting scales of time" and what constitutes a source of truth.
"There's this conception of photography being an objective measurement, but it has never been," he said, noting the possibility of doctored shots and the influence of human framing. "People also have this narrative in crypto. There's this ethos that the blockchain is truth; it's a source of objective reference. But again, it has to be interpreted by humans."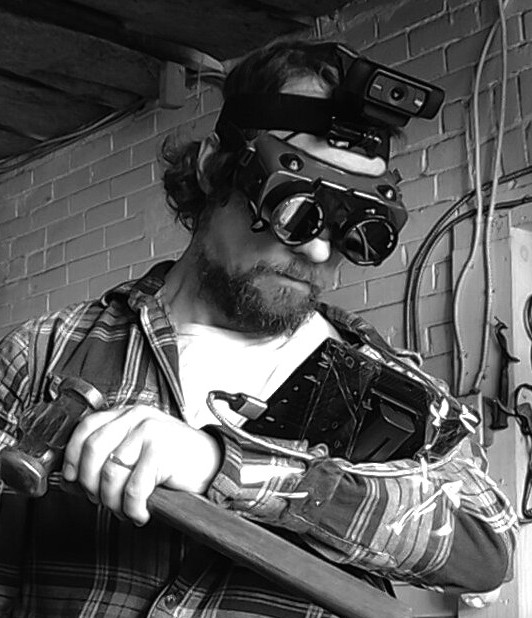 A self-portrait of pseudonymous artist Deafbeef. Image: Deafbeef
A total of 224 Chronophotograph NFTs were pre-minted, and those will be sold for 0.2 ETH ($375) each starting today. All future Chronophotographs can be taken by the Noumenon owners or delegated wallets. The Noumenon NFTs were already privately pre-sold, and the eventual owners can mint as many future Chronophotographs as they'd like.
In the run-up to today's sale, noted artists like Art Blocks founder Erick "snowfro" Calderon, the pseudonymous XCOPY, and Jen Stark were invited to capture Chronophotographs, with their respective wallet addresses forever associated on-chain with the minted NFT.
Click! CHRONOPHOTOGRAPH 154 observed by 0x39Cc9C (xcopy.eth) at blocknumber 17180375 Epoch 8 of Noumenon 14 https://t.co/Rq2bmBXQxl pic.twitter.com/oTG2M3ZWoQ

— Chronophotograph Bot (@chronophotobot) May 3, 2023
LACMA is also showing previous works by Deafbeef—whose earliest NFT compositions in 2021 have traded hands for six-figure sums—in connection with the project.
Other artists that have participated in "Remembrance of Things Future" so far include Stark, Monica Rizzoli, Ix Shells, Emily Xie, and Sarah Zucker, each of whom were inspired by existing works within LACMA's permanent collection.
---