When it comes to Bitcoin and crypto, the narratives around them move in waves, particularly as we're dealing with such young technologies. Bitcoin was launched in 2009, and has surged in price towards blow-off tops, and subsequent crashes, multiple times. On each occasion, there were several factors at work, but key narratives can be identified.
Back in 2013, we had very early, tech-savvy adopters picking up on what was envisioned as a new currency. In 2017, retail traders became caught up in the exuberance, and there was a sense that Bitcoin might be a kind of digital gold. And most recently, in 2021, we had the promise of institutional participation.
In fact, as we progress, the narratives start to operate alongside one another. The Lightning Network, a Layer 2 payment protocol for Bitcoin that was launched in 2018, aims to enable better BTC functionality as an everyday currency. And, BTC's capacity to become a store of value (or digital gold) fed into the interest in 2021 of corporations such as Tesla and MicroStrategy as they acquired BTC. Also, let's not forget the nation-state of El Salvador, which, also in 2021, adopted BTC as legal tender.
That final narrative, institutional adoption, looks set to develop as we move into the next phase of Bitcoin's existence. The Bitcoin halving is coming in 2024, and this technical event that occurs every four years has up to now corresponded with bullish periods (although there is debate as to whether the halving itself causes these shifts in the market structure, or whether it simply coincides with a four-year cycle that is present for other reasons).
Currently, all eyes are on spot BTC ETF applications in the US from top asset managers including BlackRock and Vanguard, which are awaiting approval from the SEC. These funds have the potential, if allowed to operate, to usher in an era of true mainstream acceptance for Bitcoin, and may open the gates to fresh capital flows.
CEO of BlackRock:

2017: "Crypto is an index of money laundering"

2023: "Crypto will play a role as a flight to quality"

What a time to be alive!

pic.twitter.com/xW0pGwDVrC

— Genevieve Roch-Decter, CFA (@GRDecter) October 16, 2023
However, the US is not the fastest-moving region when it comes to facilitating institutional involvement (in fact, the SEC often appears unwelcoming to crypto). This year, we've seen the crypto regulatory framework called MiCA, getting the greenlight in the EU, while Hong Kong positions itself as an Asian Web3 hub, and now over in the world's fifth largest economy, India, there have been some notable developments.
Building a Crypto Database
With the aim of being in action by the end of the current fiscal year in March 2024, the Indian authorities are working on an extensive database that is intended to cover all crypto exchanges, with the intention of allowing domestic agencies to enforce tax requirements and detect criminal activity. The proposed database is intended to track not only exchanges operating publicly, but also those that fly below the radar on the dark web.
Back in 2021, India, as a G20 member, was pushing the Organisation for Economic Cooperation and Development (OECD) to implement an international framework addressing crypto-related tax evasion, from which the OECD introduced the Crypto Asset Reporting Framework (CARF), and now India's own upcoming database will be pushing to enforce standard financial norms on the crypto world.
What's more, this all comes as India emerges as a world leader in real crypto adoption, as demonstrated by its crypto transaction volumes, which are the second highest of any country.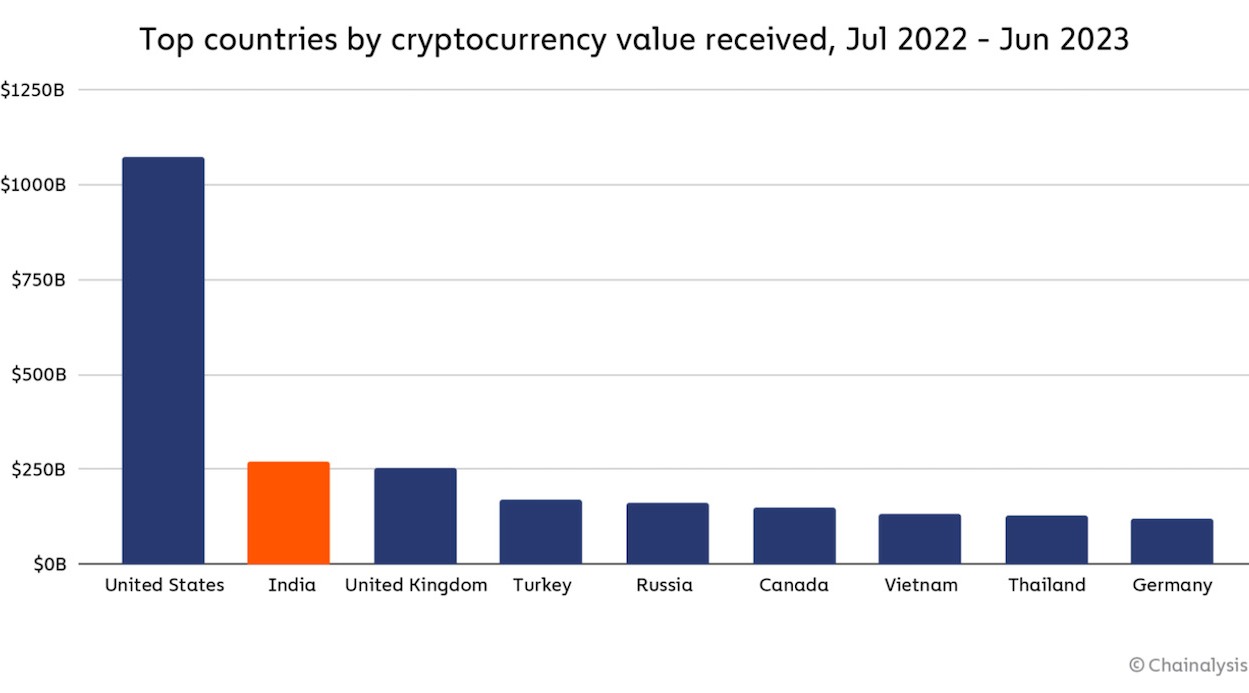 Top countries by cryptocurrency value received
Over at Liminal, a provider of crypto wallet infrastructure and Web3 custody solutions, industry veteran Manhar Garegrat, the Country Head for India and Global Partnerships, commented on the benefits of India's incoming database: "A database will act as a foundation for creating a homogeneous ecosystem of companies operating within the digital asset industry and will enable constructive collaboration between companies with diverse Web3 products and services."
He added: "The Government of India has been one of the most vocal governments to talk about the need for global cooperation. This database will serve as a constructive step in that direction. This initiative will ensure symmetric information about companies which will empower the users to take an informed decision."
Garegrat speculated on the details of exactly what the database may contain when he stated: "The database may also include ratings of companies based on various parameters like security standards, proof of reserves, and performance history to create an environment of trust and transparency in the digital asset industry."
Institutions Need Compliance
As we're seeing, that enticing crypto narrative about the arrival of the institutions already began to play out tentatively in 2021. There were subsequent pullbacks, and events such as the scandal-ridden collapse of FTX may have caused temporary doubts, but on the whole, the direction of movement is towards institutional engagement with crypto, through fund managers, private corporations, and public bodies.
However, solid crypto adoption (not just at the fringes, but intersecting respectably with traditional finance and commerce) will require verifiable compliance and security. It's become apparent that existing frameworks don't fully match up with crypto's unique characteristics and that bespoke new resources are required. It also appears that India is now taking the lead in addressing such needs.