The Ethereum layer-2 (L2) scaling solutions ecosystem has exploded over the past couple of years. However, concerns over the increasing centralization of rollup technology are growing. Fortunately, there are some potential solutions that may alleviate this industry issue.
The Ethereum layer-2 ecosystem has doubled in terms of total value locked over the past year — and that is in the middle of a bear market.
Ethereum L2 Centralization Concerns
On October 11, DeFi researcher "Andy" made a lengthy post about rollup centralization. He said,
"Decentralization has been put to the back burner in exchange for immediate feedback loops, accessibility, and user acquisition."
According to L2beat, there are at least 15 highly active layer-2 rollup networks with plenty of activity. Rollups scale Ethereum by batch-processing transactions off-chain and then posting transaction data to the layer-1 chain.
Sequencers play a crucial role in the rollup process by ordering transactions, making them cheaper and faster. However, centralized sequencers raise concerns about censorship, single points of failure, MEV extraction, and interoperability.
Find out more about Ethereum's EIP-4844 scaling upgrade
Theoretically, sequencer operators could choose which transactions to include or exclude in blocks, the researcher noted.
Moreover, they may become a single point of failure. This happened in June when Arbitrum stopped processing transactions because its sequencer faced a bug in its batch processor.
Additionally, sandwich attacks, or MEV frontrunning, become real possibilities due to the centralized control of transaction ordering.
DeFi decentralization advocate Chris Blec has repeatedly posted about layer-2 centralization issues. In late August, he released a podcast discussing the risks of L2 centralization.
Ethereum co-founder Vitalik Buterin also expressed his concerns about layer-2 'backdoors' and centralization in August.
Decentralization Solutions
Two approaches are emerging to decentralize sequencers: shared sequencers that service multiple rollups and direct decentralized sequencers specific to each rollup.
Shared sequencers promote interoperability but are limited by layer-1 throughput.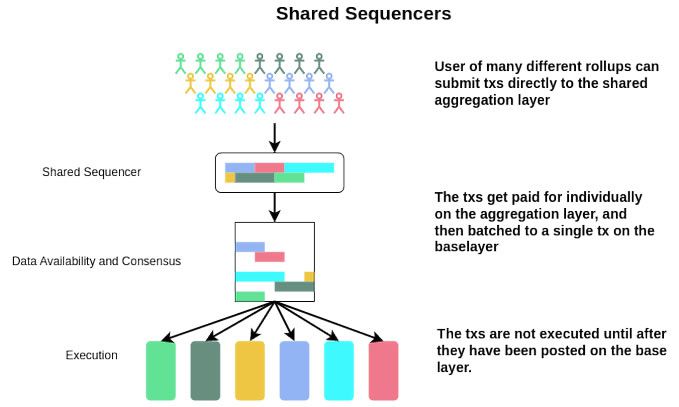 Shared sequencers. Source: X/@ayyyeandy
Furthermore, direct sequencers allow customization but can isolate rollups, and there are tradeoffs between trustlessness and functionality.
The good news is that solutions exist today across both shared and direct decentralized sequencing. These include Espresso, AltLayer, Celestia, EigenLayer, Caldera, Cartesi, Eclipse, and Dymension.
Earlier this month, OP Labs launched Optimism's first fault-proof system on testnet. This is a big step towards decentralization with a multi-proof dispute system that can include ZK proofs and reduce reliance on a single sequencer.
In conclusion, the researcher said:
"The path forward may not be straightforward, but the ongoing innovations in this space are a testament to the potential of scaling Ethereum and the potential at stake!"