Summary
Scroll's mainnet launch has attracted significant traction, with over $15 million in Total Value Locked (TVL) and over 84,500 unique addresses.
The network has processed over 90 million transactions across 9 million blocks and generated 280,000 ZK proofs during its testing phase.
Scroll prioritizes security by using battle-tested cryptographic libraries, undergoing regular code audits, and maintaining a bug bounty program.
Scroll aims to enhance Ethereum's scalability through zero-knowledge technology and EVM compatibility, competing with other zkEVM solutions like Polygon, Immutable, zkSync, and StarkWare.
Barely six days since its mainnet launch, Ethereum Layer 2 network Scroll is attracting significant capital inflow and drawing a swarm of new users.
After more than two years of building, we are thrilled to announce the launch of Scroll Mainnet.

As we open the doors to Mainnet, we want to take a moment to reflect on our journey thus far 💛 pic.twitter.com/WKfkjyIkB0

— Scroll 📜 (@Scroll_ZKP) October 17, 2023
A new contender in the zero-knowledge Ethereum Virtual Machine (zkEVM) space, the Scroll mainnet follows 15 months of extensive testing and rigorous security audits across three different testnets.
Notable milestones observed during this period include the deployment of over 450,000 smart contracts, an average of 305,000 transactions per day with over 90 million total transactions across 9 million blocks, and the generation of 280,000 ZK proofs.
Scroll: Mainnet Milestones
TVL Surges Above $15 Million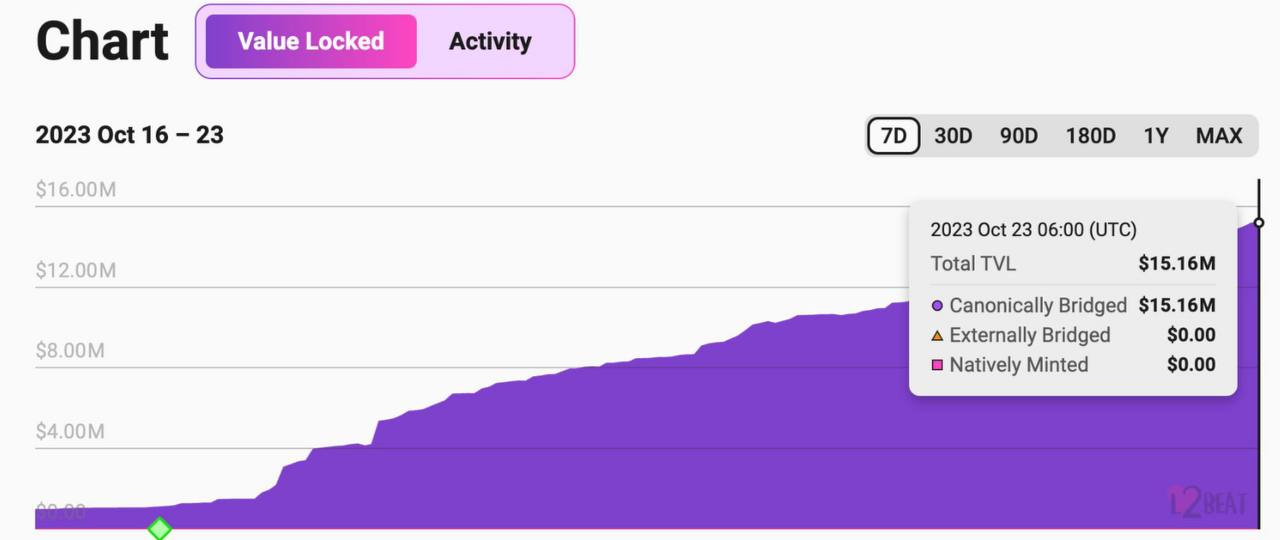 Value Locked chart: Source: l2beat
In the wake of its successful launch on October 17, the Total Value Locked (TVL) within the protocol has surged to an impressive $15.16 million as of October 23, according to data from Layer 2 analytics platform L2Beat. This milestone reflects the growing confidence and interest in the network.
Total Value Bridged
The network's adoption is further evident as over 6782 ETH ($11,351,980) has been bridged according to a Dune Analytics dashboard
Unique Address Count Soar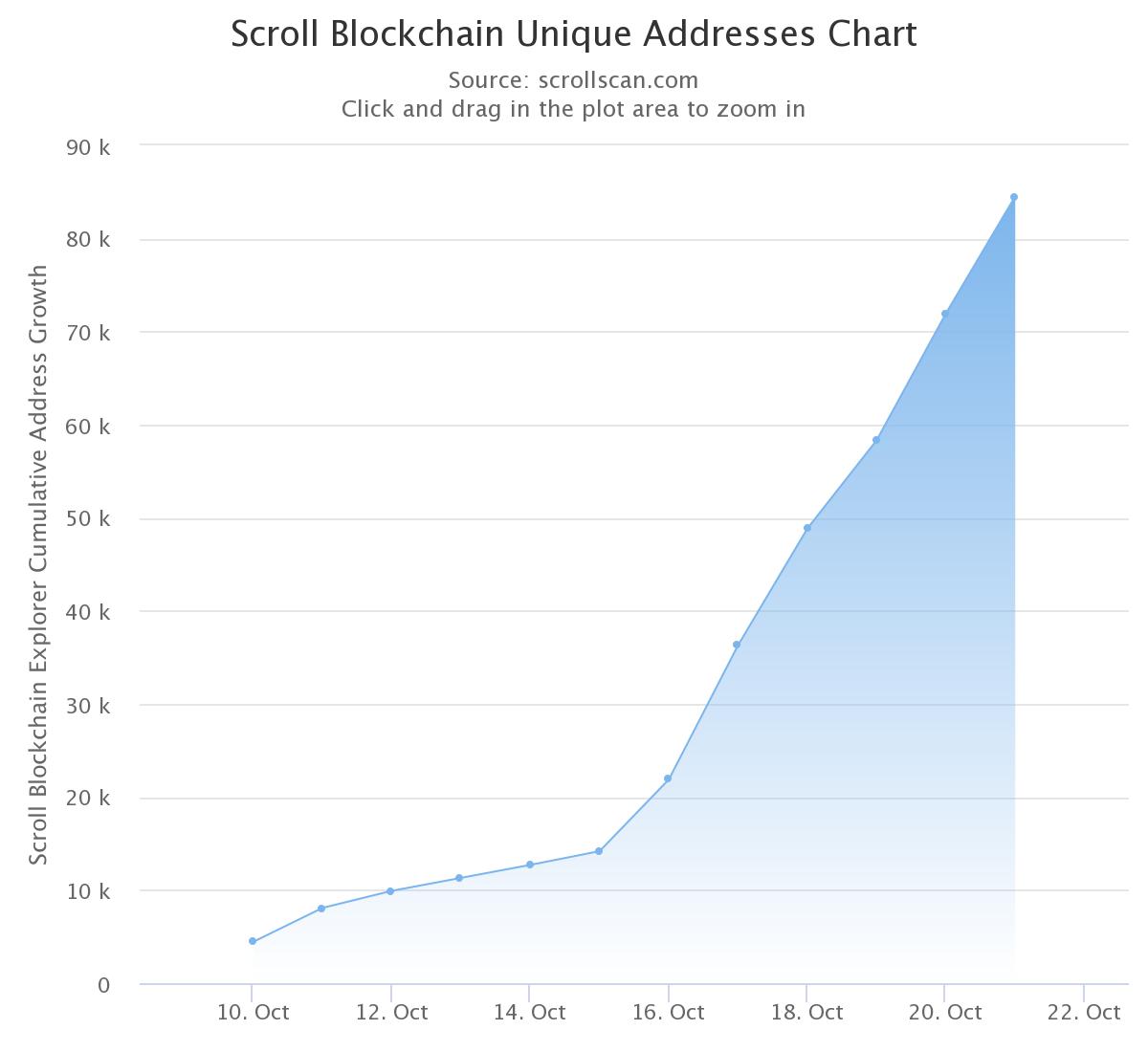 Unique addresses chart: Source: Scroll Scan
Furthermore, Scrollscan data reveals that the number of unique addresses reached 84,500, exhibiting a substantial daily increase of 12,579. Scroll has also witnessed its transaction activity peak at 101,375 on October 22.
As of the time of this report, approximately 65.56 ETH, equivalent to $109,730 has been spent on gas on the Scroll mainnet bridge.
Scroll Security Measures
Scroll aims to adhere to high security standards by leveraging battle-tested cryptographic libraries, notably including halo2. Furthermore, the codebase undergoes periodic scrutiny from the community members.
"Our bridge and rollup contracts were audited by OpenZeppelin and Zellic; the zkEVM circuits were reviewed by Trail of Bits, Zellic, and KALOS, and the node implementation was analyzed by Trail of Bits," Scroll said in a statement.
In addition, Scroll has launched a well-funded bug bounty program on Immunefi.
Scaling Ethereum
Founded in 2021, Scroll emerges as a rollup solution, contending with established zkEVM solutions like Polygon. The new layer 2 enhances Ethereum's capabilities through innovative zero knowledge technology and Ethereum Virtual Machine (EVM) compatibility.
Scroll's zkEVM employs a technically intricate, bytecode-level integration, utilizing the same code as Ethereum applications, which allows developers to easily integrate their applications into the Layer 2 network. Among other zkEVM solutions working to enhance Ethereum's scalability include immutable, zkSync, and StarkWare.